Trends, challenges, benefits & resources.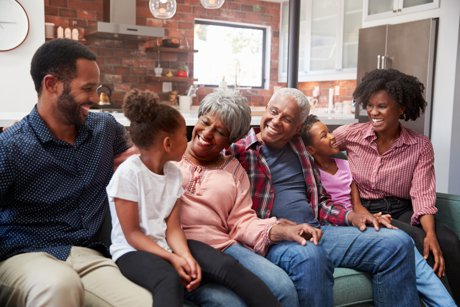 Over the past several decades, the typical American couple raised children, watched them move out into the world at adulthood, and discovered the new empty nest lifestyle. This happened while their parents either downsized or traveled until they were no longer able, then moved into senior communities or aged in place at home. This trend is beginning to change, based on several factors unique to our times. These factors include immigration (culture), people waiting longer to get married and have children, life expectancy increasing, the recent housing crisis and the economic recession that followed, and rising housing prices. This has led to more young adults staying at home longer after graduation. The rising costs of assisted living, and real estate in general, have made it more attractive for aging parents to consider pooling resources and moving in with their adult children.
Some of the challenges faced by today's "sandwich generation" include feeling trapped in place, loss of privacy and autonomy (elders expressing opinions about parenting methods), escalating burden of elder care, and lifestyle modifications. Often, housing with a separate suite for the elders is hard to find, which can create a need to move to overcome the crowded feeling of a smaller home. Additionally, some access accommodations may be required as mobility and balance decrease. Greater assistance may be required as cognitive function declines.
Most people, however, feel that the benefits outweigh these challenges. Working parents with small children enjoy live-in childcare, deeper relationships in the family, decreased elder isolation which improves health, shared strategic options, and sometimes a financial benefit from combining resources and sharing costs. Senior housing can be cost prohibitive and lonesome for grandparents who thrive in more family-focused environments.
Many resources are available for support! Books are now available, like "Hive" by Lisa M. Cini, which is one of several that address the cultural and personal aspects of Multi-Generational cohabitating. AARP also has articles and support available online. We can help you find that unique house that will work for your new extended family!
---
About the Author
Ronda Stocks is excited to serve people in the Lafayette area Real Estate Market, working in the Nexus Realty Group at Coldwell Banker Shook. A proud US Navy Veteran, she also brings critical skills from a long career in a Fortune 50 corporation, where she did Tier 3 Technical Support in Nationwide Data Networks, Reliability Analysis and Vendor Management. She has enjoyed a variety of volunteer opportunities in the local community for the past several years. She approaches Real Estate as a consultative endeavor, making a priority of understanding what customers desire and seeking to help them meet their goals in every transaction. In her free time, she likes to do workout classes at the gym, enjoy the local music scene, and spend time with family on their classic (a.k.a. old) sailboat on Lake Michigan. She is cheerfully married to Don, and honored to be Adam's Mom, on a mission to bring kindness and compassion to the world around her.
---
Sources
"Multigenerational Living is Rising, and May be to Everyone's Benefit" by Amy Goyer
"Homes with multigenerational family members are a growing trend" by Audrey Hoffer
AARP - https://www.aarp.org/ppi/info-2019/multigenerational-housing.html